Silicon Valley
Silicon Valley: Exploring the Communities Behind the Digital Revolution
| | |
| --- | --- |
| | Atherton, Menlo Park & Redwood City |
| | Palo Alto & Stanford |
| | Cupertino, Los Altos & Mountain View |
| | Milpitas, Santa Clara & Sunnyvale |
| | San Jose, Neighborhoods & Campbell |
| | Morgan Hill, San Martin & Gilroy |
| | Western Foothill Communities |
| | The Baylands |
Each area is characterized by a corresponding historical or contemporary quotation together with numerous color photographs accompanied by detailed caption information. An example of the section on the Milpitas, Santa Clara & Sunnyvale is shown below.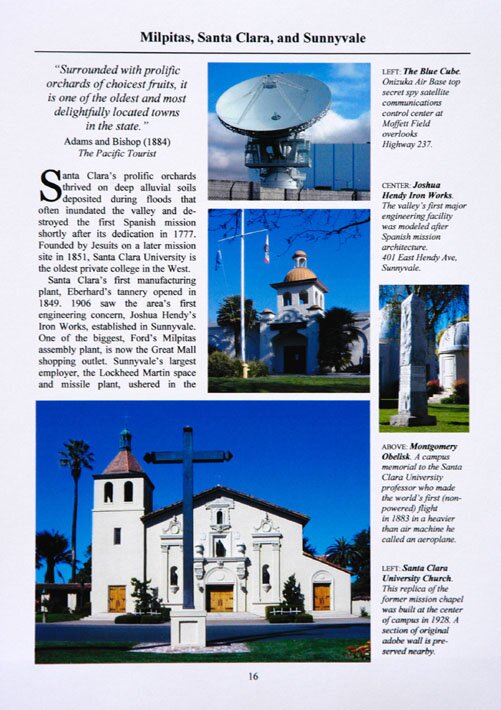 Praise for Silicon Valley:
"Silicon Valley's 100-plus year history of delivering innovative technology to the widest possible audience has enriched the lives of people throughout the world. David's images of the Valley today capture the essence of the communities that made it happen. And the adventure continues."
- W. J. Sanders III, Chairman, Advanced Micro Devices, Inc.
"Colorful images of Silicon Valley showcase both the history and excitement of this extraordinary region at the center of the world for computer technology."
- Leonard J. Shustek, Chairman, The Computer History Museum, Mountain View
"Finally! An up-to-date guide to both Silicon Valley and the Santa Clara Valley that lies beneath it. Concise and colorful, David Laws's book is also astonishingly complete. I don't know of a better introduction for a visitor to the Valley . . . nor a more compelling reminder to us locals of the remarkable community in which we live."
- Michael S. Malone, TV journalist, author of numerous books on Silicon Valley, and former editor of Forbes ASAP.
About the Author
Travel writer/photographer David A. Laws worked for Silicon Valley semiconductor companies for more than 30 years. His articles have appeared in the San Francisco Chronicle, San Francisco Examiner, San Jose Mercury News, the Oregonian, and other regional publications.
Click here for more biographical information
Silicon Valley: Exploring the Communities Behind the Digital Revolution
Price: $9.95

Publisher: Windy Hill Publications (ISBN#: 0-9723874-1-2)
124 color photos
6" x 9", Saddlestich binding, printed on high quality, gloss paper