Silicon Valley Links & Articles

Technology museums and exhibits
Children's Discovery Museum, San Jose
www.cdm.org
Computer History Museum, Mountain View, CA
www.computerhistory.org
Digibarn Computer Museum
www.digibarn.com
Hiller Aviation Museum, San Carlos, CA
www.hiller.org
History San Jose, Kelly Park and Downtown, San Jose, CA
www.historysanjose.org
Intel Corporation Museum, Santa Clara, CA
http://www.intel.com/museum/
Iron Man Museum, Joshua Hendy Iron Works, Sunnyvale, CA
www.geocities.com/alkol6
Museum of American Heritage, Palo Alto, CA
www.moah.org
NASA Ames Visitor Center, Mountain View, CA http://www.nasa.gov/centers/ames/home/home-explorationcenter.html
San Jose Trolley Barn, San Jose, CA
www.ctrc.org
South Bay Historical Railroad Society (SBHRS), Santa Clara CA
www.sbhrs.org
Stanford Linear Accelerator Center (SLAC), Menlo Park, CA
www.slac.stanford.edu
Tech Museum of Innovation, San Jose, CA
www.thetech.org/
Wings of History, San Martin, CA
www.wingsofhistory.org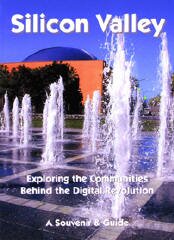 Exploring the Communities Behind the Digital Revolution
silicon.htm
Moon Handbooks Silicon Valley
http://www.moon.com/catalog2/siliconvalley.html
Stanford University, Computer Science Dept., Stanford, CA
www-db.stanford.edu/pub/voy/museum.html
Stanford University, History of Science and Technology Collections
www-sul.stanford.edu/depts/hasrg/histsci/scihome.html
Silicon Valley History online
http://www.siliconvalleyhistory.org/
For fiction and non-fiction books about Silicon Valley visit:
Silicon Valley Books: Fact and Fiction - Go Milpitas!
For used and rare books about Silicon Valley visit:
Silicon Valley Fine Books
The Tech Museum of Innovation Online Store
http://store.thetech.org/sivaexcobedi.html

A whirlwind tour through
the history of Silicon Valley
Day Trip: Where the 'antiques' are 25 years old
David A. Laws
Reprinted from The San Jose Mercury News Day Trip feature in the Sunday Travel section, October 22, 2000
"This valley's lore is (like) yesterday's IPO.''
Silicon Valley veteran Elliott Sopkin's recent lament in the Mercury News on the demise of fabled high-tech watering hole Walker's Wagon Wheel in Mountain View caught my attention. There used to be an electronics museum at Foothill College, but that disappeared years ago. "Does anyone value the artifacts of the information age?" I wondered.
I did some digging on the web. I learned that the Perham Foundation (owner of the former Foothill exhibits) and others are working on the feasibility of a local museum of technical history. (Since the article was written, the Perham artifacts have been donated to History San Jose, which is in the process of raising funds for a permanent home) For now, geeks in search of their roots must visit multiple locations. Some suggestions – admission free - from the heart of Silicon Valley.
Intel Museum, Santa Clara
From the lobby of the stark blue-and-white Robert Noyce Building, you walk up a ramp onto the raised floor of a large, dimly lit room. Spotlights focus your attention on the exhibits.
As at the Tech Museum of Innovation in San Jose, most of the displays are technology tutorials for the layman. The visitor learns enough about the design, fabrication, and function of semiconductors to appreciate that the microprocessor is the most complex manufactured product on Earth.
Microprocessor interactive display, Intel Museum
Of most interest to history buffs is a wall devoted to the evolution of microprocessors at Intel from the first 4-bit chip of 1971 to today's multi-million transistor Pentium devices. Anecdotes and photos of the engineers, silicon wafers etched with patterns as intricate as a street map of New York, and examples of applications in everyday products animate otherwise lifeless blocks of wire and plastic.
Fry's Electronics, Sunnyvale
The next stop, Fry's Electronics store in Sunnyvale, started as a conventional supermarket. After adding floppy disks and printer paper between the milk and the vegetables, it morphed into one of the world's largest electronics retail chains.
Each store sports a different decorative theme ranging from Mayan temples to the Wild West. Sunnyvale's tells the history of electronics in Silicon Valley.
Thirty-two 8 foot by 8 foot, sepia-toned photos span the period 1880 to 1980. They celebrate local companies, entrepreneurs, and inventions from radio and TV pioneers, through Ampex, Hewlett-Packard and Varian, to Apple and Intel.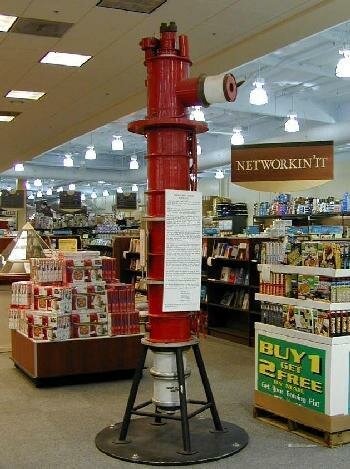 Varian klystron tube, Fry's Sunnyvale store
Historic devices on loan from the Perham collection enliven the book section. Water-cooled klystron microwave generators, Philo Farnsworth's TV image dissector, de Forests's Audion amplifier, and a home built Apple I kit look positively prehistoric next to gleaming wireless gizmos stacked on surrounding shelves.
For a quick lunch, you can buy sandwich, smoothies and coffee bar right in the store.
Computer History Museum, Mountain View
Familiar to most South Bay residents, giant Hanger One at Moffett Airfield in Mountain View is a high technology landmark that is difficult to miss. Standing in its shadow, the new Computer History Museum is tough to find and known to few. (Since this article was written the museum has moved to a landmark high tech building a few blocks away at Shoreline Drive and Highway 101)
New Computer History Museum building, Mountain View
Comprising over 3,000 hardware items, thousands of films, tapes, books and photographs, and gigabytes of software, the Center's goal is to create a world class showcase for the folklore of the computing era. It is currently stored on NASA property so you must call ahead for reservations to visit. (Reservations are not necessary for the Wednesday, Friday and Saturday tours at the new location.)
The museum's "Visible Storage" area, is a euphemism for a warehouse with explanatory signs. (Although it is far more spacious than the Moffett Field facility, the new location also calls the exhibit area Visible Storage while they are raising funds for a more traditional museum display) Dinosaurs of the information age; finely crafted wooden cabinets of early tabulating machines; heavy iron and sheet-metal monsters from the 50's and 60's; sleek plastic enclosures of just yesterday but already obsolete, line the aisles. Thousands of miles of woven wires, row upon row of glistening glass vacuum tubes, colorful plastic knobs, plugs and sockets all conjure patterns worthy of a gallery of abstract art.
Many of the most important milestones of computing history rest silently in this Geek's Valhalla. A World War II Enigma encryption machine, ENIAC - one of the first electronic computers, Cold War supercomputers from CDC, Cray and IBM, the complete Digital PDP series of minicomputers, and early PCs from Altair and Apple fill the space to bursting point. If you worked with this stuff, every few feet you'll exclaim to anyone who will listen "Come here, you've just got to see this."
My own epiphany came at the 1972 Burroughs Illiac IV machine powered by 256-bit bipolar memory chips from my alma mater, Fairchild Semiconductor. Seeing something that you helped to create placed on display in a museum forces you to acknowledge your years.
WeirdStuff Warehouse, Sunnyvale
If you leave the museum inspired to start your own collection of computing memorabilia, head for the WeirdStuff warehouse. The owners describe themselves as "people who have an unhealthy love for electronic and computer equipment. Our business is like a computer swap meet every day." Refurbished computers vie for space between serpentine coils of cables and racks of glowing "Ukleenum" monitors for $25.99.
Make your way to the extraordinary "As Is" area in back. Hundreds of linear feet of shelving are piled four-levels high with bits and bytes of every obsolete brand of modem, disk drive, printer, motherboard, PC and power supply.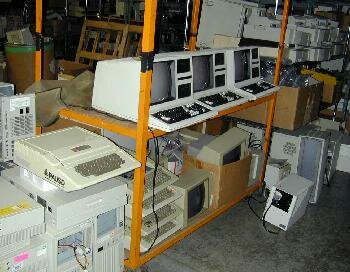 Weirdstuff Warehouse "As Is" area, Sunnyvale
You probably won't score an Altair or a Cray, but you can sometimes find a dusty Apple II, an early Mac, or a venerable "Trash" 80, all fine examples of Valley lore that have outlasted many of its hottest IPOs.
IF YOU GO
Intel Museum
2200 Mission College Boulevard, Santa Clara, CA 95052-8119
Phone: 408-765-0503
Open: Mon. - Fri. 9 A.M. to 6 P.M., Sat. 10 A.M. to 5 P.M.
Fry's Electronics
1077 East Arques Avenue, Sunnyvale, CA 94086
Phone: 408-617-1300
Open: Mon. - Fri. 8 A.M. to 9 P.M., Sat. 9 A.M. to 9 P.M., Sun. 9 A.M. to & P.M.
The Computer History Museum
1401 Shoreline Drive, Mountain View, CA 94043
Phone: 650-810-1010
Open for tours on Wednesday, Friday and Saturday at 1:00 and 2:30PM and following scheduled lectures.
WeirdStuff Warehouse
384 West Caribbean, Sunnyvale, CA 94089
Phone: 408-743-5650 x324
Open: Mon. - Sat. 9:30 A.M. to 6 P.M., Sun. 11 A.M. to 5 P.M.
For more information on the area see:
Silicon Valley: Exploring the Communities Behind the Digital Revolution